The Power of Conscious Awareness….. Accepting God's Gifts
There has been an ongoing debate for centuries about Man's ability to understand consciousness, or simply, our true awareness of ourselves.  Even before The Secret; even before Wayne Dyer, Louise Hay and Esther Hicks, the greatest Philosophers of our time have understood that events in the brain can manifest into real-life experiences.  That doesn't mean that every thought we have will transpire before our very eyes.  It means that through prayer and faith, we can accomplish the things we strive for.
Our Role in Manifesting
One of the requirements in accomplishing our goals includes the physical pursuit of the things we desire. (God helps those who help themselves).   We can't visualize a pile of money and have it delivered to us by some unseen, omniscient force.  It takes physical effort.  If your desire is to start a successful company, you have to work for it.  It won't manifest out of thin air.  But, the important part is praying and believing your company will be successful.  If you tend to harbor a victim mentality, save your money and go for something smaller.  After all, if you think small, you'll get small.
Mark 11:24 – "Therefore I tell you, whatever you ask in prayer, believe that you have received it, and it will be yours."
Awareness
We all live busy lives.  We make our plans, create checklists and go about taking care of business.  On the surface, this seems deceitfully productive.  In reality, it takes more than going through the motions like pre-programmed robots.  Sure, there can be small successes along the way.  For example, if you fill your car with gas, you can expect it to keep taking you places.  This is the simple law of cause-and-effect, though.
Let me give you an example of what I mean by conscious creation…a.k.a. asking for and accepting God's gifts.
Yesterday, I visited the local Goodwill.  I saw a bookshelf and made a beeline.  As I browsed the titles, I thought to myself, "I want something about the Law of Attraction".  Three shelves over, I found a book by Esther Hicks.  Of course, I'd fleetingly hoped for something by Wayne Dyer, but I hadn't been specific enough.  I chose three books and headed for the register.  I decided to put one of the books back and thought to myself, "I will put this book back and while doing so, will find something important and applicable to my life."  As I created this thought, I indeed found a book on Christian spirituality, something I needed.  Right there, on the shelf, in the same spot where I lay the book I was returning.
Matthew 7:7 – "Ask, and it will be given to you; seek, and you will find; knock, and it will be opened to you."
An Even Deeper Awareness
I have a confession to make.  I've been on a journey; a struggle, if you will.  For months, I've been trying to figure out a way to fuse my spirituality with the concept we know as The Law of Attraction.  I've gathered books such as The Secret (Rhonda Byrne) and Ask and It Is Given (Esther and Jerry Hicks), among others.  They encourage us to pay attention to our feelings and instruct us on how, with practice, we can become "joyful, deliberate creators".  They wax poetic about how we can control our very existence and get everything we want in life as long as we are on the correct vibrational frequency and annihilate any negative thought we have like Raid on a roach.
What I have discovered is that positive thought practices will no doubt bring you an enhanced state of being.  I have come to believe that if you expect the best, you will get the best.  And here is the biggest, most important discovery thus far:
Ask, Believe, Receive has been around since the beginning of time.  I found examples of it in The Bible.    I've included two examples above.  Here are two more:
John 16:24 – "Until now you have asked nothing in my name. Ask, and you will receive, that your joy may be full."
1 John 5:15 – "And if we know that he hears us in whatever we ask, we know that we have the requests that we have asked of him."
That's all for today, friends.  More posts on this topic to come……
Your healed life starts with one step...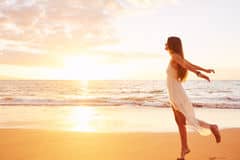 Get immediate access to this FREE recovery series to receive:

My top resources for narcissistic abuse recovery
Tips to detox from painful relationships
Strategies to overpower your addiction to the narcissist
and More!