Doing What's Comfortable or…..Living Your Dream?
Yesterday, my post 10 Reasons Why You Should Never Get A Job was a big success.  I am beyond excited that my words resonated with so many people.  It's more proof that as soon as we stop straining, and just start doing what we love, things will start to fall into place as if by magic!  (I'm in no way insinuating that you should quit your job today, but it can happen, if it's one of the sources of your discontent).
This leads me to another point.  Sometimes, when we are going through a shift, things transpire that might seem downright scary.  Things that scare people from making their own shift. What's there to fear and what the heck is a shift, you ask? Let me break it down for you.
For most of the world's population, stability means working that 9-5 and bringing home the bacon on a regular basis.  After all, there are bills to pay and mouths to feed.  Yeah, I get it. Many of us are in the same boat.  But, at some point, we begin to feel that we are not answering our calling; that we're running out of time; that we're not really doing anything that ultimately matters.  It's at this point that you have to ask yourself, how can I get to the bottom of this gnawing emptiness?
That's when you realize….you can't keep doing things the way you've always done them.  Because… you will keep getting the same results.  Do you really want to keep your nose to the same grindstone?  For some of you, the answer might be yes.  But, for most of us, the time comes when we realize we have to do something different.  (See my post, It's Time to Get Bold).
Shift Happens 
Now, on to the scary stuff… Unless you have a rich relative or have been the recipient of a big inheritance, there will be sacrifices to make.  There, I said it.  You will most likely have to give up your favorite conveniences in exchange for pursuing your dream.  You may even have to give up more than mere conveniences; you may have to live a whole different lifestyle.  This means something different to everyone.  But, I know that you know what you need to do.
The big question is…do you want it more than you are afraid of it?  Are you willing to go out of your comfort zone of predictability?  Do you have what it takes?
I've decided I don't want to work for other people all of my life.  I want to be a writer…a writer who helps other people believe in themselves.  As such, it's currently not in my budget to use all of the high-end beauty products I'm used to.  Instead of buying my facial creams from my favorite Medi-spa, I've had to resort to buying L'Oreal from my local Wal-Mart (sacre bleu)!  I cannot go to Starbucks every day.  In fact, I don't enjoy many of the "extras" that I have grown accustomed to….mani-pedis, movies, and dinners out.   Much less new clothes or shoes.  I'm the perfect example of a starving artist.  But you know what?  I am fine with that because I'm going after my dream.  That means more to me than anything I can buy.  Is there a chance my dream won't happen?  Sure, there's a chance.  But, I want it more than I'm afraid of it.  Do you?
Surrender
What's the worst that could happen?  In many ways, I'm going through the worst of it now.  It's a death and rebirth process.  But the fact that I've accepted it and surrendered to it opens me up to truly give my dream the focus it deserves.  I'm still in the ashes in some ways, but I wear those ashes like battle paint, knowing that a new way can only be found with the death of my worn-out habits, shields and beliefs.
Your healed life starts with one step...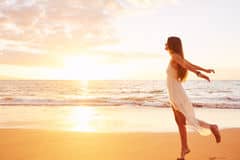 Get immediate access to this FREE recovery series to receive:

My top resources for narcissistic abuse recovery
Tips to detox from painful relationships
Strategies to overpower your addiction to the narcissist
and More!