The Happy Funeral – Releasing The Past…
12:42 p.m. – For those of you who read my entry this morning, I am here to share the outcome of the "funeral" I held for one of my painful memories.
Here is a recap of the ceremony:
As stated in my previous post, The Funeral – Burying My Grief, I planned a funeral for the memory of not being there when my grandparents passed away.  I wrote them an apology letter and created a eulogy for the event.
Next, I drove to a nearby greenway that runs along a local river.  There's a special spot I go to that's rather therapeutic.  It's great for meditating or just enjoying nature.  I read the letter out loud to my grandparents.  Then, I read the eulogy.  I had planned on tearing the letter up, but I decided to fold it instead to keep the words together.  Lastly, I walked down to the water, which was in a high state of activity due to recent flooding, and I released the letter into the current.
I sat for a few minutes to let the moment sink in.  At first, I felt emotional, but then, I felt as if my grandparents were right beside me.  I spoke to them as if they were there and was enveloped by feelings of love and forgiveness.  I closed my eyes and let the sun's rays and intensity of joy settle in my heart.  It was amazing.
I knew I would feel an element of relief, but I never expected to feel this liberated and illuminated! I would highly recommend this as a method of releasing the past and gaining closure..
"Take a walk through the garden of forgiveness and pick a flower of forgiveness for everything you have ever done. When you get to that time that is now, make a full and total forgiveness of your entire life and smile at the bouquet in your hands because it truly is beautiful." ~ Stephen Richards
Your healed life starts with one step...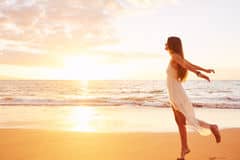 Get immediate access to this FREE recovery series to receive:

My top resources for narcissistic abuse recovery
Tips to detox from painful relationships
Strategies to overpower your addiction to the narcissist
and More!