8 Ways To Overcome Fear
Learning to overcome one's fears isn't as easy as it sounds.  There are articles all over the internet that claim to know the secret of banishing your fears forever.  I've done it myself…go to a website, follow the instructions, and in five minutes or less, you will be changed forever.
Only, it rarely happens that way.
Most people cling to their fears because those fears have become a part of their identity.  Therefore, unless someone is truly ready to change, no website or book is going to be of help.  It takes time to change one's patterns of thinking and beliefs, but it can be done.  Overcoming fear is a skill that can be learned by anyone…in their own time.
If there's one thing I can say about the websites out there that claim to banish fears forever, it's that those processes don't take into consideration that we are unique individuals.  What works for one person may not work for the next.  We all have different personalities and different paths that we've traveled in life.  So it only goes to show that overcoming fear is a process of trial and error, just like anything else in life.
If you're reading this post, you've come here for a reason.  You are ready to overcome your fears.
How To Start Conquering Fear Today
1)       Awareness/Identity/Curiosity – The first step in dealing with fear is to be aware of what you're afraid of to begin with.  Do you even know anymore?  Has fear become such an ingrained habit that it's just there for no reason?  Get specific.  Write down what you're afraid of.  There's a good chance that the fear isn't even applicable anymore.
2)      The Power of Now – Sit and reflect for a moment.  In this moment, you are being taken care of.  You have clothes, food, shelter, and an internet connection.  You might have the love of family and friends.  Is there really anything else that you need?  Appreciate what gifts you have in the moment.  Realize your fears don't have any place in the now.  I would also recommend a book by Eckhart Tolle, The Power of Now.  It's received a near-perfect rating out of the almost two thousand people who made the effort to review it.
3)      Pray – If you're a believer, like me, you might gain huge benefits from praying.  Sometimes just the act of asking for help will take you a long way.  "Don't worry about anything, but pray and ask God for everything you need, always giving thanks" ~ Philippians 4:6 (NCV).
4)      What's The Worst That Could Happen? – For me, one of my worst fears is not having enough money.  I'm in the middle of this right now, but I can honestly say that although I don't have money for extras, I am still taken care of.  See #2.  If your fear is not getting that promotion, for example, what's the worst that could happen?  Understand that if you're passed over, it has nothing to do with your abilities or worth.  It means there is something better out there waiting for you.  The Universe always works to our advantage.  Appreciate the gift and open your eyes to the other open doors.
5)      Therapy – While I have found that seeing a counselor or therapist hasn't been beneficial for me, I have friends and acquaintances who found relief through this option.  Therapists can open your eyes to what causes your fears and help you overcome them.  If you haven't tried this, don't delay.  You could be one of the lucky ones who benefits from visiting a therapist.
6)      EFT – Emotional Freedom Technique.  This method helps reduce the emotional impact from traumatic or painful memories, which contribute to disease in the body.  You use your fingertips to tap specific points on your body to release negative energy blocks.  Many people swear by this.
7)      Fear of Success – Sounds odd, huh?  Some people are afraid of success because it means a change in lifestyle, friends, a perceived violation of social mores, etc.  Here is a great link that talks about this irony.  There are a few typos, but it gets the point across very well.
8)      The Sedona Method – This process has been around for a while.  It's about "Letting go" or "releasing" the feelings and emotions that arise around whatever issue you are facing and causing you to feel stuck.  Here are some free audios that go along with the book and The-Insider-Guide-to-the-SM.  The pdf is full of sales pitchy links, but it also contains some valuable insight.
Over time, you will be able to overcome your fears.  Choose a method that resonates with you.  Remember, the first step is simply taking action.  Incorporating the use of a journal is highly useful, too.  Typically, trying to work through fears through thinking alone is difficult, if not impossible.  Writing everything down helps you get past the endless loops of negativity.
Trust your heart and do what it tells you to do.
Your healed life starts with one step...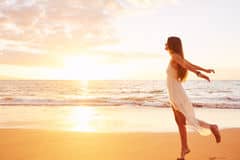 Get immediate access to this FREE recovery series to receive:

My top resources for narcissistic abuse recovery
Tips to detox from painful relationships
Strategies to overpower your addiction to the narcissist
and More!