Healing Your Body after Narcissistic Abuse
If you're reeling in the aftermath of the blitzkrieg of Narcissistic abuse, it doesn't take long to realize that your body feels like it has aged years. 
Your muscles are stiff, your joints hurt, you feel tired all the time (and it's not from all the crying).  You feel rundown, overwhelmed, and always seem to be a step or two behind.  Visions of salty and sweet snacks dance through your head and you give in more often than not. 
Perhaps you have a hard time getting out of bed in the morning, no matter how much sleep you got, and you often feel more energized at night than during the day.  Other symptoms might include:  tiredness, fearfulness, arthritis, anxiety, depression, reduced memory and difficulties in concentrating, insomnia, and inability to lose weight.
Do any of these symptoms describe you?  If yes, it's likely you suffer from adrenal fatigue.
Being abused by a Narcissist keeps your body in an almost permanent fight-or-flight state.  This forces your adrenal glands to pump out cortisol at high levels.  Not only does this often cause an unsightly pudge over time, it also causes your adrenal glands to go into overload to the point that they simply can't keep up any more.  When this happens, your ability to tolerate stress is severely lowered.  This causes you to experience fatigue and exhaustion, which are enhanced by the inability to sleep through the night.
Not only did the Narcissist try to destroy you emotionally, your body is paying the price, too.
So what can you do about it?
Getting enough sleep is a good start.  While it's hard to do when you have insomnia, I have found that meditation works wonders.  Get your iPad, Kindle, or Nook and head over to YouTube.  I wouldn't recommend a cell phone because they interrupt your sleep cycle. 
Make sure you have some headphones (earbuds often end up falling out).  Dim the lights, and search for "guided meditations".  An excellent example is the following from The Honest Guys:
I would suggest a meditation that lasts at least 30 minutes.  Don't worry if you fall asleep because your subconscious will absorb the positive affirmations used during the meditation.  Other tips to heal your adrenal glands include:
Doing yoga or walking outside works wonders for your health, as well as your state of mind.
Avoiding draining situations, such as parties, going to the mall, or people that drain your energy.
Making time to do things you enjoy.  Go to the bookstore, read, or sit at the park.  Anything that you consider restorative.
Resisting the urge to indulge in too many sweets or carbs.  They only increase your blood sugar and cause more health problems.  If you can't avoid them altogether, try to cut down.
Eating foods with omega-3 fatty acids.  They manage inflammation and reduce high levels of cortisol production.
Avoiding disturbing movies that cause you to feel anxious or panicked, such as horrors, dramas, or anything with too much violence.  This only puts your body back into fight-or-flight mode.
Be patient.  Healing your adrenal glands can take anywhere from six months to two years.  If you suspect you may suffer from adrenal fatigue, find a practitioner that can administer a blood or saliva test.  If your production is low, they may recommend some supplements to heal your fried adrenal glands.
Your healed life starts with one step...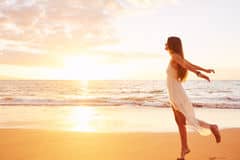 Get immediate access to this FREE recovery series to receive:

My top resources for narcissistic abuse recovery
Tips to detox from painful relationships
Strategies to overpower your addiction to the narcissist
and More!