The Paradox of the INFJ / Narcissist Connection
My months of research on Narcissists has turned up a recurring theme.  As many of you know, the Narcissist typically attracts a specific personality type.  Usually a warm, independent person with a clearly defined personality such as:  INFJ, Empath, Protector, Caregiver, Nurturer, Sensitive, and/or Highly Sensitive.
One theory of how Narcissists became the way they are is through faulty parenting.  Perhaps their parents were Narcissists; they apparently didn't get the love and nurturing they needed as a child.  In fact, there are several related theoretical causes as to why a person becomes a Narcissist including:  excessive criticism for bad behaviors in childhood; emotional abuse as a child; unpredictable or unreliable caregiving from parents.
It seems INFJs, Empaths, Sensitives, etc.  generally report the same on the subject of wounding childhood experiences.
I have to wonder, what causes one person to become a Narcissist, while another becomes kind, caring, and nurturing?  Does it have more to do with nature than nurture?
The Narcissist and his co-dependent are attracted to one another because of a deep-rooted need to resolve childhood issues.  Will the Narcissist ultimately be punished (via Karma or eternal damnation) for their evil ways, or will they be forgiven for the gift of spiritual transformation their victims often undergo?  Are the heart-wrenching lessons the victims learn some kind of divine intervention?
What do you think?  Feel free to share you theory below…
Your healed life starts with one step...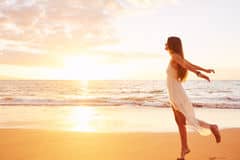 Get immediate access to this FREE recovery series to receive:

My top resources for narcissistic abuse recovery
Tips to detox from painful relationships
Strategies to overpower your addiction to the narcissist
and More!