Accepting the Necessity to Detach from the Narcissist
Making the conscious choice to leave someone you still care about, or even love, is never easy.  We grieve the loss of memories, shared moments, and the dream of what could have been.  Breakups and divorces are painful enough, but when trying to leave a Narcissistic partner, it's a whole different ballgame.
It may not seem like it at first, but if you were discarded by your Narcissist instead of the other way around, you are one step ahead of the game.  Granted, he will show off his new supply like an award trophy, making you feel inadequate, undesirable, and unworthy, but the thing to remember is that he doesn't treat you that way because you deserve it.  He does it so that he doesn't have to accept accountability.  It's painful, for sure, but recognize it for the childish behavior it is.  Narcissists, while having normal or above-average intelligence, are emotionally immature.  Let him prance around like a Kindergartener on the playground, he's actually doing you a big favor by handing back to you years that would have otherwise been destroyed.
For others who make the decision to leave the Narcissist, it becomes a living nightmare.  No matter how many times you try to leave, the Narcissist finds ways to keep you in the loop.  In spite of recognizing you're being abused and betrayed, you let him back in, convincing yourself that you can negotiate, bargain, help him see the error of his ways, and that if you love him enough, things can go back to the way they were in the beginning.  But after years of struggling, you find that he is still the same. It's virtually impossible for a Narcissist to change because they innately believe they are doing nothing wrong.  They are incapable of self-reflection, much less how their actions affect others.
What we don't realize is that when allowing the Narcissist back into our life, we are being a participant in our own abuse.  In fact, prolonged contact with an abuser is dysfunctional in itself, and you should seek therapy to figure out why you are allowing yourself to be subjected to this treatment.  Possible reasons include fear of abandonment, unresolved issues from childhood, fear of loneliness, and low self-esteem.  It doesn't mean you are weak, only that something hurt you along the way and you are stuck in a moment that you can't escape.
In order to truly heal, recover, and begin to build your life back into a semblance of normalcy, you must truly detach from your toxic partner.  When you stay in the relationship, you spend all of your energy just trying to survive, so there's no room for healing or recovery.  Acknowledge that you will never get any closure from the relationship ending and get into counseling.  If you don't have insurance, visit your local Domestic Violence center.  They often offer reduced or free counseling, group therapy, and transitional housing.
Lastly, go full-blown No Contact.  Some people are confused as to what this really means.  I've read countless stories of aspiring survivors who think going No Contact means not responding to texts or emails or ignoring the phone when he calls.  That's not No Contact, that's No Response (I did it myself, at first).  No contact means literally blocking the Narc from all forms of communications:  Texts, emails, phone calls, chat boards, IM, Skype, etc.  It entails going in and blocking him so he can't get in touch with you.  If you have a custody situation, leave only one avenue for him to contact you and shut down the rest.  This includes all social platforms.  This isn't a form of punishment towards the Narc.  It's making the conscious decision to take your life back and really has nothing to do with him.
This article isn't about judgment.  It's about familiarity from someone who was trapped for eight years and finally left after solemnly admitting to myself that I needed to start my own chapter because the story's end would always be the same if I stayed with my Narcissistic Ex…and it's never a happy one.
Going No Contact is hard.  Think of it as quitting an addiction.  People often try several times before they successfully give it up forever.  In the same way, No Contact isn't something most people can do successfully on the first try.  However, that's not an excuse to keep your toe in the cesspool water.  Just as a cigarette takes seven minutes off of your life, staying with a Narcissist will do the same.  See 5 Reasons Why It's Critical That You Leave Your Narcissistic Partner.  You'll live each day with tightness in your chest, a general feeling of sickness, and the knowledge that continuing that nasty habit will slowly contribute to your decline.
** As a former target of a Narcissist, I made every mistake possible when it comes to cutting the Narc out of your life.  Although you might not be in a place to accept the reality of the situation, just knowing the outcome is helpful in your road to recovery.  It is like a seed that's been planted, and it is struggling to break through the concrete…but one day, it will find a small crack, grow tall and you will get your freedom back.
Your healed life starts with one step...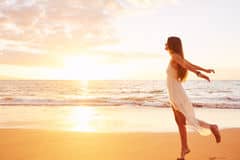 Get immediate access to this FREE recovery series to receive:

My top resources for narcissistic abuse recovery
Tips to detox from painful relationships
Strategies to overpower your addiction to the narcissist
and More!