Narcissistic Lies
"Narcissist lies" and "Narcissist telling lies" are among the most popular search terms that lead people to Let Me Reach.
On one hand, I'm glad people are beginning to understand their Narc is a liar.  On the other hand, I feel for them because for most, it is the beginning of a long road of torment.
Narcissists lie about everything.  In fact, they will even lie about things they don't "need" to lie about.  I think some of them turn it into an Olympic sport just for the amusement they receive from duping people.  They also do it because, if they can perceive other people as stupid, then that makes them really smart (by standards of the Narcissist, of course).
And guess what?  Catching them in a lie will not change anything.  They will lie about covering up lies and lie more to cover up those lies.  Think of their lies as nesting boxes…a tiny lie inside of a small lie, inside of a medium lie, inside of a big lie, inside of a huge lie.  You get the idea.
Nor will they feel any remorse for their lies.  For them, lying is no different than fixing a sandwich or putting gas in their car.  Lies are just a means to an end.  In fact, the only time you will hear them "apologize" for lying is when you prepare to leave them.  Not because they are remorseful.  It's because they see the prospect of adult responsibilities staring them in the face…
In a relationship with a Narcissist, it always happens the same way.  You discover your partner is a pathological liar, usually after they have begun to devalue you.  So, the fact that they can't open their mouth without lying adds to the resentment that's already building.
From my own experience, that resentment isn't entirely directed toward the Narcissist.   We begin to resent ourselves.  However, our ego doesn't want this realization to rise to the surface of our conscious mind.  Our ego tells us, "You can make this work.  You can change him/her.  All you need to do is be nice to them and they will go back to the person you fell in love with."  There's only one problem with that.  The person you fell in love with never existed.  It was all a lie.  It's probably the biggest lie we come to acknowledge about our Narcissistic partner.
Our ego wants The Charmer that we met in the beginning.  The Charmer that told us everything we wanted to hear, fulfilled all of our needs, and made us feel special.  The Charmer was our soul mate.
Our Logic, however, knows better.  Our Logic knows The Charmer was a lie.  Our Logic knows that our partner is really a Dark Villain.  However, our Ego usually wins out over Logic. Then, we subconsciously resent ourselves because we let our Ego tag-team against us with the Narcissist.
You know that sick feeling you get in the pit of your stomach after you forgive the Narcissist, yet again, and they go back to their evil ways in four minutes flat?  That feeling comes from believing our Ego.  In other words, it comes from believing the lie we told ourselves.  Because, when it comes right down to it, we know the Narcissist won't change.
It's time to show your Ego who is boss.
As for your Narcissist…well, there's no hope for him or with him and he needs to be released back into the wild.
Your healed life starts with one step...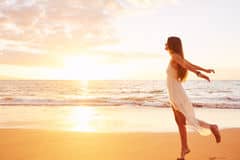 Get immediate access to this FREE recovery series to receive:

My top resources for narcissistic abuse recovery
Tips to detox from painful relationships
Strategies to overpower your addiction to the narcissist
and More!