Cross the Bridge to Your Other Reality
A Way Out
When attempting to leave an abusive partner, most people get sucked back in several times before making the break.
Why do you think that is?  Why can't we just pack our things and leave?  We know it's in our best interest (and perhaps that of our children).  Yet, we find ourselves reluctantly staying time and again.
When I think about it from a personal perspective, I realize that in my own abusive relationship, I didn't see myself as having the power to make the choice.  I did have the power, but I didn't exercise it.  There was a subconscious belief that my Ex was the one to dictate whether the relationship would end or not.  I effectively gave him the power to choose instead of giving that power to myself.
Insanity
One scenario in particular played out repeatedly, like a nightmarish version of Bill Murray's Groundhog Day.  My Ex, always one to administer the silent treatment, would often pack all of his things in suitcases and leave.  While he was gone, I would come to the conclusion that this time was for real.  While part of me missed him (the trauma-bonded me), another part of me felt happy.  I could finally move on with my life.  I would write in my diary of all the things I'd do for myself and for my children.  I could actually see a door to another reality, just waiting for me to pass though.
Then, without warning, my Ex would return and shatter that vision.  When that happened, I would spend days in a depressive state, loathing my very existence and praying that I wouldn't wake up the next day.
After this happened several times I realized that not only did I despise my Ex, I detested myself for letting him back in.  Until one day, I ended the insanity.
"Every passing minute is another chance to turn it all around" ~ Tom Cruise – Vanilla Sky
Think about the power of that statement.  Every passing minute, you have the chance to change your reality.  With every minute, you can make the choice to stop making excuses and turn your can'ts into cans.
When it comes down to it, we all have the power to leave.  When I ended it with my Ex, I realized I'd had that same power all along.  Essentially, I'd kept myself there…not him.
Right now, you could get up from your computer and start planning your new reality.  You could make some calls to see where you can move to…maybe with a friend or family member.  Check into room-mating with someone.  You could call the Domestic Violence center in your area and get into transitional housing.  If you're not working, you could find a job and get out on your own.  There are ways to change your existence.  People do it every day…every minute.
Unless.  Unless you prefer to sacrifice freedom for a false sense of security.  Does a roof over your head really mean more than your happiness…or that of your children?  Is having a comfortable bed to sleep in really worth the price of being abused…sometimes while your children watch?  This isn't about judgement, it's about facing objective reality.  It's about rejecting false security for growth.  It's about shedding the cloak of "victim" and deciding to take your power back.
When this minute passes, you will never get it back.  Oops…it's already gone.  But, what can you do in this minute to change your reality?  Are you going to stay in the path of the looming 18-wheeler that's headed straight towards you, or will you make the choice to get out of the way?
You Hold the Power
The power is in your hands.  Cross the bridge to your other reality…this minute.
What can you do this minute to change your reality?  Feel free to share your plans with us!  Or, if you've already made the quantum leap into your new reality, share your successes in the comments section.
Your healed life starts with one step...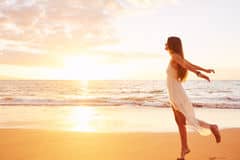 Get immediate access to this FREE recovery series to receive:

My top resources for narcissistic abuse recovery
Tips to detox from painful relationships
Strategies to overpower your addiction to the narcissist
and More!