How to Pull a 180 on a Narcissist — The Art of Reverse Crazy-Making
Are you tired of your Narcissist's constant games?  Does he or she stage scenes in order to make you appear confused, hare-brained, or an all-out lunatic?  Do they insist you're losing your mind when you ask them about your stuff they keep moving around in a twisted game of Where's Waldo?
I can relate.  There's nothing more frustrating than being under constant siege by a Narcissistic Ninny.  If you're tired of your partner's antics, why not give them a taste of their own medicine?  I offer the following suggestions to assist you in your endeavors.
Keep in mind that these recommendations require patience, attention to detail, and a strong sense of discretion.  The secret to successfully implementing these strategies is to pace yourself.  Most importantly, under no circumstance should you divulge to your Narc that you are the culprit when they begin to gradually feel the heat. Paying homage never felt so wonderful!
In the Closet
Carefully remove two buttons from one of his most expensive shirts.  Hang it back up and wait for the day of reckoning.  When he asks you about it, you're clueless.
-fotosearch
Choose a pair of his favorite shoes.  Replace the shoe laces with a pair of youth-sized strings so he can't tie them when he puts them on.  Be mindful that the sham shoe-strings are the same color and texture.
When washing the laundry, put a whole bottle of bleach in his whites…let them soak a while.  Later, when he puts on his socks and underwear, they'll put apart like string cheese.
In the Lavatory
Place a small drop of fish oil or cod liver oil into his preferred cologne.  Not too much.  Caution is key.
gettyimages
When the opportunity presents itself, see if you can interest Fido in exploring the culinary properties of the Narc's toothbrush.
– Andrew Nielsen
The Gift that Keeps on Giving
Write the Narc's phone number, including the area code, on every $1, $5, $10, $20 you have. Spend them.
-fotosearch
Reverse Gaslighting
Sweet Justice
Him:  How do I look?
You:  Fat man in a little coat…
Him: WTF did you say?
You:  That jacket is totally dope…what did you think I said?
Did you successfully exact a little justice?  How did your Narc react in the face of Instant Karma?
**For comedic purposes only.  After all, Karma is Karma**
Your healed life starts with one step...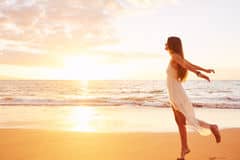 Get immediate access to this FREE recovery series to receive:

My top resources for narcissistic abuse recovery
Tips to detox from painful relationships
Strategies to overpower your addiction to the narcissist
and More!