The Gift in the Silent Treatment
The first few times it happened, I was in total misery.  I wasted away in my abode, maintaining a white-knuckle grip on my phone should he decide to call.  I camped out in the apartment lest he chose to come back.
In fact, I made myself completely available, avoiding plans with friends and family…in the event he decided to forgive me for whatever imagined injury I had inflicted upon him.
After a while, I grew to enjoy the absences and silent treatments.  In fact, not being under his ominous presence gave me the opportunity for independent thought, as well as a taste of what life could be like without him.  No abuse, no raging at me in front of the kids, no more me collapsing on the floor in a slobbering, pathetic heap.
Yeah…it was pretty great.
So, during subsequent stints of Silent Treatment, I used the time to visualize my escape.  Though it took a while to grow some kahunas, during one of his extended silences via absenteeism, I finally went out and put a deposit on a new apartment and moved out within two days.  When he came back, I was gone..like the wind.
I never went back and I didn't let him in, in spite of his concentrated efforts to worm his way into my new place.  And oh, did he try.  He reminded me of the rat in the famous experiment where someone removes the cheese.  He was quite persistent.  But, I maintained my resolve like a soldier in the 10th brigade.
Moral of the story…if you find yourself a victim of the silent treatment with your abuser staying gone a couple of weeks at the time, smugly thinking to themselves that you're weak and will be waiting for their arrival like a starved cat in a Meow Mix commercial…take advantage of the opportunity.  Seize the day.  
Did you turn the tables while being "punished"?  Tell us about your success in the comment section.
Your healed life starts with one step...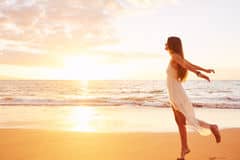 Get immediate access to this FREE recovery series to receive:

My top resources for narcissistic abuse recovery
Tips to detox from painful relationships
Strategies to overpower your addiction to the narcissist
and More!