Balancing Hormones After Narcissistic Abuse – Kale and Berry Smoothie
mywholefoodlife.com
Black and Blue Green Smoothie
(From Dine Alkaline by Jason and Nandi Moore)
Serves 2
Ingredients
Flesh of 1 avocado
1 large cucumber
2 to 3 cups of kale, spinach or other leafy greens
1 cup of frozen berries (your choice)
1 cup of unsweetened almond or coconut milk
Stevia to taste (optional)
1 tbsp hemp seed (optional): Manitoba Harvest is a good brand and is available 

in Costco if you have one in your area

1 tbsp flaxseed powder (optional)

1 tbsp protein powder (optional)
Directions
Blend all ingredients in a Vitamix or high powered blender and enjoy!
Hormone Balancing Ingredients
1. Avocado, an excellent source of healthy fat
2. Kale (or spinach), cruciferous vegetables and leafy greens
3. Berries
4. Hemp seed
5. Flaxseed, a good source of omega-3
© 2013 Designer Health Centers LLC
Narcissistic abuse causes major damage to your body from the long-term, chronic stress.  Because of this, part of the healing process involves healing the delicate systems that have been thrown off-balance.  Healing your hormonal system is part of the holistic healing approach.  It's important to note that healing the adrenal glands is a prerequisite to healing the hormonal system.
Your healed life starts with one step...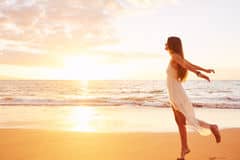 Get immediate access to this FREE recovery series to receive:

My top resources for narcissistic abuse recovery
Tips to detox from painful relationships
Strategies to overpower your addiction to the narcissist
and More!
~ Kale and Berry Smoothie