PTSD in the Aftermath of Narcissistic Abuse
Can you develop PTSD from narcissistic abuse?
Yes.  In fact, it's almost impossible to avoid it…
Victims of narcissistic abuse generally leave their toxic relationships with PTSD and C-PTSD.  These acronyms stand for Post-Traumatic Stress Disorder and Complex Post Traumatic Stress Disorder.
PTSD results from experiencing a devastatingly stressful event or series of events.  C-PTSD is similar, resulting from persistent psychological trauma within an environment in which the victim believes there's no possibility of escape.  There is a perceived sense of helplessness and one's sense of self is annihilated over time.
Victims of Narcissistic abuse experience both.  
Let's say Judy is in a relationship with a Narcissist.  Because of brainwashing, the breakdown of her friendships, and constant verbal abuse, she now believes she is worthless and no one else would be interested in her.  Additionally, the last two times she tried to leave, she was stalked, harassed, and intimidated until she came back.  In her mind, there is no escape.  She is experiencing C-PTSD.
In addition to the above scenario, Judy endured a physical assault by the Narcissist and witnessed him hurt her pet.  She has PTSD from these events.
When it comes to PTSD, intentional shocks inflicted by humans are the most difficult to heal from, such as sexual, physical, and emotional abuse.  In regards to significance, these events fall directly under combat and resistance fighting, such as those that occur in the military.
According to Louisehay.com,
Many of us have events in our life that are traumatic. A parent dies when we're in middle age. One of our children gets a minor illness and we're terrified that they may not survive. A child may be diagnosed with a learning disability, or we may have a fender bender on the highway.

All of us have the resilience in our brains and bodies to bounce back; however, when we experience an event that is over the top in magnitude, such as up-close, personal experience of war, watching a loved one die, being a victim of rape or abuse, and so on, the horrific memories get laid down in our brains and bodies.

Psychiatry names this post-traumatic stress disorder (PTSD). The most recent studies with brain scans indicate that in PTSD sufferers, the fear network is not working properly. 
Warning Signs
Understanding that narcissists use intentional language and behaviors to effectively cause you to develop PTSD from narcissistic abuse is crucial in understanding how to heal and move forward.  If you've been in a relationship with a Narcissist, you might suffer from the following:
Re-experiencing aggressive acts and comments made by the Narcissist.  Can include bad dreams and nightmares.
Hypersensitivity – trouble sleeping, being frightened easily, difficulty with concentrating, and outbursts of anger.
Anxiety – being in constant fight-or-flight mode.  This, in turn, leads to physical and emotional fatigue, which later manifest as illness and disease in the body.
Being triggered by stimuli in the environment which recalls traumatic memories.
Repetition Compulsion – Reenacting traumatic events in an attempt to gain closure – this is why we often re-abuse ourselves after the narcissist has left.  This might include stalking him or her online in order to see them with a new partner, negative self-talk, or entering into another abusive relationship.  In other words, trying to complete what wasn't previously completed.  However, this only enhances PTSD symptoms because it doesn't heal the trauma, it simply reinforces the neural pathways associated with trauma triggers and painful memories.
Impact of PTSD
Left untreated, PTSD and C-PTSD lead to other symptoms and conditions which affect all areas of life.  These include:
Inability to handle stress
Eating disorders
Drug and alcohol addictions
Damaged relationships with others
A negative outlook on life
Depression
Specific anxiety disorders such as panic attacks and phobias.  For example, victims who were stalked often develop agoraphobia.
Crippled Self-Esteem
Loss of career and loss of desire to be productive
Diseases such as cancer.  Victims of abuse have higher incidents of certain types of cancer.
Suicide
If you're experiencing these symptoms and side effects, it's highly likely that you've developed PTSD from narcissistic abuse.
Am I Crazy?
No.  Although it may feel that way, all of the above result from losing the ability to cope with long-term abuse.  You endured traumatic events that became overwhelming.
However, the good news is that with time and commitment, it is absolutely possible to overcome the effects of trauma after narcissistic abuse.  
If you have been a victim of Narcissistic abuse, please make an appointment to meet a qualified trauma specialist who can help you deal with and recover from the emotional trauma you've endured.  This level of emotional damage will not go away on its own.  
Copyright 2018.  Kim Saeed and Let Me Reach, LLC
Your healed life starts with one step...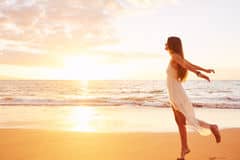 Get immediate access to this FREE recovery series to receive:

My top resources for narcissistic abuse recovery
Tips to detox from painful relationships
Strategies to overpower your addiction to the narcissist
and More!