I Was a Horrible Wife
After meeting and "falling in love", we married and started our lives together.
In the beginning, I worked a full-time job as a bank manager, and then came home every day to cook and clean for him and his sister.  I completed any paperwork that needed completion; I ran errands, fixed his lunch and prepared his clothes for work every day.  I often stayed up until midnight finishing up things he needed to be done.  I let my own priorities fall by the wayside.  I was a horrible wife.
I took care of all holidays, buying the gifts and decorating.  I planned all of our trips and vacations.  Whenever he decided he wanted to go somewhere, I canceled my own plans and disappointed friends and family so I could go out of town with him. I was a horrible wife.
If I cooked rice, he wanted chicken.  If the food was warm, he wanted it cold.  I didn't complain, instead doing what I needed to do in order to please him.  He always started out sounding innocent, but we both knew I would end up feeling useless and discouraged.  These small moments were the catalyst for his illogical outbursts.  Afterward, I'd end up in tears, feeling powerless to change the situation.  I was a horrible wife.
I wasn't allowed to have any friends.  Any social interactions were only with people he knew.  I dressed and acted the part of the quiet, submissive wife.  In the end, he openly ridiculed me in front of his friends and family.  I tried to bite my tongue and not respond. At one point, I realized his friends no longer liked me because he was telling lies behind my back…fictitious things I'd supposedly said about one person or another…all false. I was a horrible wife.
When I became pregnant with our son, I wasn't able to enjoy the pregnancy like most women who are blessed with a child.  During this time, I often endured the worst of the abuse.  When I dressed for work, I apparently looked like a hooker (even at eight and nine months).  He constantly compared me to women on TV in light of my weight gain.  I discovered he was watching porn while I was at work.  He often told me I wasn't worth more than a piece of shit and threatened to knock out my teeth shortly before our son was born.  I almost had a miscarriage at eight months due to the constant stress and anxiety.
When our son was an infant, he didn't get enough nourishment because my breast milk dried up from the constant put-downs and heartache.  (Poor little guy… never took to the bottle).  As I held him at four months of age, his father said to me that he hated me and was stupid for marrying me.  He said he wanted me to die.  My older sons heard the commotion and felt horribly for me.   I was a horrible wife.
When our son was a year old, I asked for a separation.  After filing the paperwork, his response was to leave the country. In less than two months, he'd already married someone else.  For almost a year, I raised our son alone, which I'd basically been doing, anyhow.  I felt sorry for our son and wanted to give the marriage a second chance and begged him to come back to us.
After he came back, the abuse was worse than ever.  I gave him my love, he gave me his hatred.  I tried to embrace him, he pushed me away.  I offered him the life of a family; he offered me a life of misery. I gave him my dreams, he gave me a stone.  I forgave him, he made me pay.  I gave him my soul; he twisted the knife and said, "You are a horrible wife."
Your healed life starts with one step...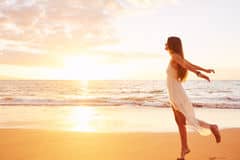 Get immediate access to this FREE recovery series to receive:

My top resources for narcissistic abuse recovery
Tips to detox from painful relationships
Strategies to overpower your addiction to the narcissist
and More!