Balancing Hormones after Narcissistic Abuse – Maple Mustard Grilled Salmon
www.chow.com
By Christine Gallary on Chow.com
Serves 4
Ingredients
For the Glaze:
1/3 cup Maple syrup
3 tbsp whole grain mustard
1 tsp apple cider vinegar
½ tsp freshly chopped thyme
1/8 tsp sea salt (or to taste)
1/8 tsp pepper (or to taste)
For the Fish:
4 (6-ounce) Wild Caught Alaskan salmon fillets, skin on
Coconut oil or pure olive oil for cooking the fish in
Sea salt
Pepper
Instructions
1. Heat the oil of choice in a pan over medium heat.
2. Place all of the glaze ingredients in a small saucepan and whisk together. Heat over
medium high heat until the glaze liquid starts boiling. Remove the pan from heat and
set aside to cool.
3. Season the salmon filets with salt and pepper and grill skin side first for 3 to 5
minutes and then flip cooking for an additional 3 to 5 minutes on the other side.
4. Remove the salmon from the pan and place on the plate. Brush each filet with some
of the glaze and serve.
Hormone Balancing Ingredients:
1. Salmon, rich in Omega-3 fats
2. Apple cider vinegar, balances the body biome
3. Thyme, a hormone balancing herb
4. Coconut oil and olive oil, good healthy fats
© 2013 Designer Health Centers LLC
Narcissistic abuse causes major damage to your body from the long-term, chronic stress.  Because of this, part of the healing process involves healing the delicate systems that have been thrown off-balance.  Healing your hormonal system is part of the holistic healing approach.  
Your healed life starts with one step...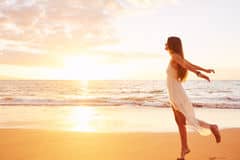 Get immediate access to this FREE recovery series to receive:

My top resources for narcissistic abuse recovery
Tips to detox from painful relationships
Strategies to overpower your addiction to the narcissist
and More!