For Empaths and Sensitives Suffering from the Effects of Narcissistic Abuse
"The heart nature of Empaths and Sensitives yearns for the world to be just.  We want nothing more than love, justice, and truth." ~ Jenna Forrest
One of the reasons that Empaths and Sensitives are subconsciously drawn to Narcissists is because we come into the world wanting to fix people and things that are broken and/or unjust.  We are here to help other people heal.  When we enter into a relationship with a Narcissist, we spend copious amounts of time and energy trying to force lessons onto the Narcissist to correct their heart and make them more loving.
What we don't realize is that they have their own lessons to learn, of which we cannot assist.  The fact that they often don't learn from their mistakes is a lesson in itself.  In the meantime, we remain confused and hurt because we cannot comprehend how another human being seems to lack basic human decency.  Because of the injustice we encounter during our time with the Narcissist, we often remain in the relationship long after we should have left because we erroneously believe they will one day "get it".
Narcissists are also here to teach us our own lessons so that we can get to the root of our past hurts in order to remove blockages.   This enables us to better assist people in healing themselves and educates us on how to deal with "dark souls".
Throughout my own journey of suffering Narcissistic abuse, the aftermath, and moving forward, I oftentimes found that no matter how much I understood cognitively, I harbored a lingering, vague sadness within myself.  There were times when I was able to shake this and feel a pure connectedness to God and the Universe.  However, the sadness always came back…creating blockages in my recovery and sense of self, not to mention the manifestation of physical symptoms.
The reason for this is because I hadn't practiced emotional release.  This is extremely important for Empaths and Sensitives (or any victim, for that matter) because we absorb the feelings that swirl around in our environment, which unfortunately include a lot of fear, hopelessness, grief, anger, pride and shame…in addition to our own sensitive emotions.  When we become involved with a Narcissist, we are further bombarded with these negative currents.  According to www.mkprojects.com:
"Emotional abuse is a form of violence in relationships.  Emotional abuse is just as violent and serious as physical abuse but is often ignored or minimized because physical violence is absent.  Emotional Abuse can include any or all of the following elements.  It can include rejection of the person or their value or worth.  Degrading an individual in any way is emotionally abusive, involving ridiculing, humiliating and insulting behavior.  Terrorizing or isolating a person is deeply abusive and happens to children, adults, and often the elderly.  Exploiting someone is abusive.  Denying emotional responses to another is deeply abusive.  The "silent treatment" is a cruel way of controlling people and situations.  Where there is control there is no love, only fear. Emotions stemming from emotional abuse are deep and complex, requiring ongoing help from those trained to deal with emotional abuse. "
One way to overcome the effects of being highly sensitive is to practice sound therapy and binaurals…these sounds are wired into our DNA as comforting, nurturing and safe, and we respond physically by releasing our tension and stress.  
Try out sound therapy with this 'Healing Sleep Music with Binaural Beats / Delta Waves' meditation.  And don't forget to download your beginner's healing toolkit below!
Your healed life starts with one step...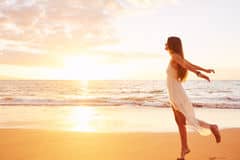 Get immediate access to this FREE recovery series to receive:

My top resources for narcissistic abuse recovery
Tips to detox from painful relationships
Strategies to overpower your addiction to the narcissist
and More!