Balancing Hormones After Narcissistic Abuse – Roasted Red Pepper Hummus
Inspired by Canadian Living: The Vegetarian Collection
Make about 2 cups Ingredients   1 red pepper, quartered Pure olive oil for brushing 2 ½ cups of cooked chickpeas or 1 19 oz can of organic chickpeas ¼ cup lemon juice ¼ cup tahini ¼ cup extra virgin olive oil 2 garlic cloves ¼ tsp salt and pepper Directions 1. Set the broiler in your oven to high. Brush the red pepper skins with a little bit of olive oil and place them skin side up on a parchment paper-lined baking sheet. Once the oven is hot, put the red peppers in and broil on high for 10 minutes or so. Watch them carefully so they don't burn completely, because ovens can cook differently. 2. Broil until the skins are lightly charred. Don't char them until they're black. Just broil until the skins are blistered and barely charred on the outside. If you get any black pieces, just peel that part away once the peppers are cool. 3. Remove the peppers from the oven and let them cool, peeling away any black and charred pieces. Place them in a Vitamix or high powered blender along with the chickpeas, lemon juice, tahini, EVOO, garlic and salt and pepper. Puree together until the mixture is smooth and well combined. I like to leave a little bit of texture in my hummus. You can add a little bit of water to thin the mixture if you choose. Hormone Balancing Ingredients: 1. Chickpeas – effective in preventing buildup of cholesterol in the blood vessels. Also help to maintain correct blood sugar levels. 2. Garlic – work to improve immune functions and fight of bacteria and viruses. 3. Lemon juice – filled with antioxidants that reduce oxidative stress in the body. 4. Extra virgin olive oil – a good source of healthy fat.
Eat up and heal up!
Your healed life starts with one step...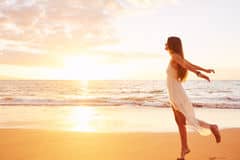 Get immediate access to this FREE recovery series to receive:

My top resources for narcissistic abuse recovery
Tips to detox from painful relationships
Strategies to overpower your addiction to the narcissist
and More!
Photo ~ courtesy of backtoherroots.com