What Are You Doing Right Now To Change Your Life?
Put down that doughnut, close Facebook and let me pose a serious question… What are you doing to change your circumstances besides hoping for a magical, lucky break?
So many people talk about their dreams, adding, "one day…", "someday…", or "when I get lucky; stable; have more time; lose weight; win the lottery; quit my job", and the list goes on.  We're all guilty of it.  I still say those things from time to time.  But although I have my eye on the future, I'm working on creating that future.  I get up every day with a schedule of what I'm going to do to touch my readers, which marketing angles I can use to reach a bigger audience, how to focus my content on what brings value, and analyzing my page clicks so that I can bring my followers more of what they want.  Because in the end, it's not about me.  My entire purpose is to reach out to as many people as I can in order to assist them in realizing that their circumstances in life do not have to depend on luck or a manipulative partner.  I've been through a lot, but that hasn't stopped me.  When I first came out of my own abusive relationship, it took sheer, raw willpower to not just give up.  It would have been so easy to do.
I acknowledge that sometimes we are met with bumps in the road.  Life gets put on hold. But, we have to dig our heels in and pick up where we left off.  You do have control over your life and your future, but the first step is saying you can.  Whatever goal you want to reach, whatever you want to do in life, your success originates from your attitude.  And it's got to be a good one. Believe that you can, and you'd be surprised at what you can achieve in life.
So, I ask you again… what are you doing right now to change your life?
A year from now, you'll wish you'd started today.
"Today marks the beginning of my new, better life; Today I commit to constantly work outside of my comfort zone; Today I take one step closer to my dreams" – Neale Donald Walsch
Suggested Inspirations:
More Neale Donald Walsch Quotes
Your healed life starts with one step...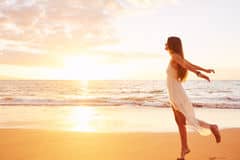 Get immediate access to this FREE recovery series to receive:

My top resources for narcissistic abuse recovery
Tips to detox from painful relationships
Strategies to overpower your addiction to the narcissist
and More!