Narcissistic Abuse Results in Soul Loss
People from all walks of life visit this site in hopes of overcoming the emotional (and sometimes physical) abuse that they've endured from a Narcissist or other Cluster-B disordered person.  Further, many targets of narcissistic abuse see a traditional therapist, but haven't experienced any great progress in their recovery.  In fact, I've had a few clients who are themselves licensed counselors.
It's becoming alarmingly clear that traditional Western medicine and therapy aren't successful in wholly treating Narcissistic abuse.   While they are effective in helping patients deal with clinical conditions such as PTSD, anxieties, phobias, and other similar mood/emotional syndromes, traditional therapy has no framework for dealing with the suffering that results from Narcissistic abuse.  And sadly, most psychiatrists are only interested in masking the symptoms of these disorders with pharmaceuticals that alter the DNA of those who take them.
Why do victims of Narcissistic abuse often find such little relief from traditional therapy?  Because it doesn't address the largest underlying factor of what happens in cases of emotional trauma…loss of parts of the soul.  In fact, many times a patient is diagnosed with a mental or emotional condition when what's happened is that parts of their soul have fled in moments of extreme emotional shock.  Soul loss is similar to what psychology refers to as "dissociation".
In indigenous societies, it is largely accepted that when life experiences are traumatic enough, they can result in the fragmenting of our inner spirit, or soul, which is described as 'soul loss".  It is understood that this loss is temporary, helping the sufferer in dealing with the aftermath of a truly traumatic experience.  However, in cases of Narcissistic and emotional abuse, the trauma is ongoing, resulting in serious illness, both psychological and physical.  Victims effectually lose some aspects of their personality and life-force, which is why a common complaint is that they don't know who they are anymore and that they can barely survive day-to-day.  It also explains why Narcissistic abuse is often coined "rape of the soul".
"Beside himself." Why do we describe a distraught person as being beside himself? 
Because the ancients believed that soul and body could part, and that under great emotional stress the soul would actually leave the body. 
When this happened a person was "beside himself."   – Dictionary of Word Origins
What soul loss looks like:
Daily life seems pointless
Drug and/or alcohol addiction
Not knowing one's purpose in life
Blocking out parts of one's memories
Obsessive or ruminating thoughts
The feeling that something is missing in life
Suicidal thoughts or fantasies
The inability to receive or give love
Persistent feelings of emptiness
Feelings of helplessness
One's belief that they cannot change their circumstances
So how do we go about getting those lost pieces of our soul back?  Lissa Rankin, author of Mind Over Medicine: Scientific Proof That You Can Heal Yourself, states:
"Sometimes the soul needs space in order to heal, and this may require the courage to make some external changes in your life. Perhaps you need to switch careers in order to give the soul more room to breathe. Perhaps an unhealthy relationship is constricting the soul, and it's time to get into therapy, set boundaries, or even end things. Perhaps you need to find more people to love or relocate to a place that helps your soul come alive.  Perhaps you need to give your soul permission to engage in more creative activities. Such eternal changes may be part of the prescription the inner doctor of your soul writes.
But very often, those kinds of major life overhauls are NOT NECESSARY!  Reconnecting to the soul allows you to find peace and happiness right where you are in ways that are much simpler and more profound than you might think. It can be astounding to discover that you've had what you needed all along and have been looking in all the wrong places. Perhaps all that is needed is to see the life you're already living in a different way."
One major life overhaul this is necessary is leaving an abusive partner.  Sandra Brown, the author of Women Who Love Psychopaths, indicated in an interview that psychopathy is our nation's number one health crisis and costs individuals and insurance companies ten times more than depression. The dangers of staying with a narcissist are very real.  While it may feel like your situation is different and you might be the one rare exception, it's simply not possible due to the fact that psychopathy is incurable.
Copyright 2016.  Kim Saeed and Let Me Reach
Your healed life starts with one step...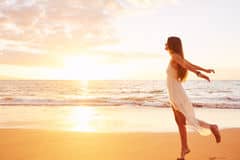 Get immediate access to this FREE recovery series to receive:

My top resources for narcissistic abuse recovery
Tips to detox from painful relationships
Strategies to overpower your addiction to the narcissist
and More!