LMR Saturday Survivor – Inspirational Stories from the Front Line
The Day I Remembered Me
~Submitted by Kim Saeed~
February 11, 2011.  After nearly eight years of marriage to a Narcissist, I remembered me…and left the nightmare of Narcissistic abuse.
Little did I realize I'd been drawn to him partly because of my innate desire to help and heal others.  You see, I am an HSP (Highly Sensitive Person), an Empath, and INFJ on the Myers-Briggs Type Indicator (MBTI).  I was also an unaware co-dependent, and it took a relationship with a cluster-B disordered personality to bring all those tendencies to the surface.
Like me, individuals who share these traits feel such depth of emotion and love towards other people that we believe we can heal them. Because of our tireless efforts to help others believe in themselves, we are often successful in aiding them in overcoming issues of low self-esteem and disempowerment.  Only, with a Narcissist, it's never enough.  They are empty inside; virtual bottomless vessels.
By the time I left, the depth of trauma caused by emotional and cruel verbal abuse produced symptoms of PTSD – which developed due to the cruelty of abandonment, betrayal, silent treatments, accusations, and the devaluing and discarding that takes place, not to mention being constantly subjected to crazy making behaviors within the relationship.  I suffered from cripplingly low self-esteem and thought I was never good enough, regardless of my accomplishments.  I was in a constant state of anxiety and depression.  These feelings were intensified due to my being an HSP.
Soon after leaving, I was stalked, harassed, spent a night in jail (for charges which were later dismissed), and lost two jobs.  I'd lost faith in myself, my dreams, and was a mere shell of the person I'd been before I met him.
But those are all things of the past.
I write this as a message of hope for sufferers of Narcissistic abuse.  You may feel you're worthless, unlovable, and that things will never change.  I'm here to tell you they can, but only for you – and only after you leave.  After my "escape", I graduated from college, am a certified Teacher, Law of Attraction practitioner, Chakra Healer, completing a program to be a Spiritual Healer, have started a practice to help others detach and move forward from Narcissistic abuse, and am pursuing my dream of being a published author. My children are happy, I'm happy, and life has never been better.
If you or someone you know is in a relationship with a Narcissist, I must tell you that they will never change.  The most constructive thing you can do is stop trying to "fix" them and the relationship.  Turn all of that love and caring onto yourself because your love will never make a difference to them.
In closing, I leave you with this moving song, which for me, is symbolic of the hopelessness of being in a relationship with a Narcissist…
Original link:  The Day I Remembered Me.
Your healed life starts with one step...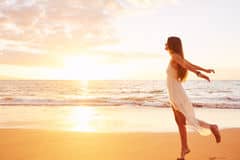 Get immediate access to this FREE recovery series to receive:

My top resources for narcissistic abuse recovery
Tips to detox from painful relationships
Strategies to overpower your addiction to the narcissist
and More!