Forgiving the Narcissist – Is Your Ego the Culprit?
There are several factors at play when choosing to remain in a toxic relationship.  But did you know your ego may be the most prevalent?
In fact, your ego is just as convincing as the Narcissist in your life.  But the difference between your ego and your abusive partner is…your ego doesn't mean to be cruel.  It's acting out of fear of abandonment and low self-esteem.
Your ego is the reason you obsess about your partner after they discard you.  It's the reason you invite the Narc back in after a brief stint of No Contact.  It's the reason you believe…maybe this time he'll change.
Your logic and intuition know that things will never change with the Narcissist, but we often listen to our ego instead.
To give you an idea of how your ego works, here is an example:
Narcissist:  "I didn't mean those things I said, I was just angry.  You know I can't live without you.  You're my one true love.  I've never wanted anyone as much as I want you.  Please give me one more chance.  I'll prove to you how much I love you."
Your Logic and Intuition:  "You know from experience this won't end well.  Did he/she change the last fifty times?  No.  You need to respect yourself and tell him/her it's over.  He's lying, don't fall for it."
Your Ego: "What if he really means it?  Look at his face…he must be sincere.  Remember that time he brought you flowers?  What if he's serious this time and you give up on him too soon?  Then, you'll be all alone and will have thrown away his love.  Besides, you may never find love again.  You know you need to lose weight.  You know there are pretty women out there.  What if you're giving up a good thing?  Let's be realistic."
Notice how your ego says the same things as your abuser?  It's almost a no-win situation because you have two voices telling you to stay with the Narcissist.  But…you are forgetting about your logic and intuition.  They are the reason you feel a little sick after forgiving the Narcissist again.
"As long as the ego runs your life, most of your thoughts, emotions, and actions arise from fear. In relationships you then either want or fear something from the other person." ~ Eckharte Tolle
The next time you feel weak and are thinking of caving in to your ego's demands, simply say to yourself, "Thank you for caring about me, but the fact is I'll be in more pain from staying than by taking the risk to leave.  I don't want to live in fear anymore."
Your healed life starts with one step...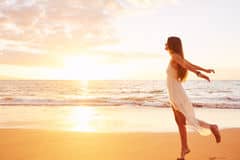 Get immediate access to this FREE recovery series to receive:

My top resources for narcissistic abuse recovery
Tips to detox from painful relationships
Strategies to overpower your addiction to the narcissist
and More!