Hamster Wheel Conversations with the Narcissist
One of the most important aspects of maintaining No Contact and moving towards recovery is being able to see your narcissistic partner for who they truly are. 
They appear so genuine sometimes, and we make the mistake of assuming they must have some understandable reason to be hurtful.  We find it too hard to accept the idea that some people are simply cunning, devious and ruthless. 
After all, we shared our very selves with them. We trusted them.  We loved them.
A common struggle among people who reach out to me for coaching is getting stuck in a crazy cycle of trying to "make" their partner understand the pain they've caused them.  They try to "make them" understand how they are supposed to act as caring partners.
Narcissists are very cunning in the way they can push our buttons and keep us engaging with them time and again…even though it's absolute insanity and nothing ever gets resolved.  They say things which go straight to the center of our hearts, but it's important to realize they are simply saying things by rote, much like speaking a foreign language to relay a particular message, but with no real meaning behind what they say.
One reason we keep having the same conversations with them trying (in vain) to make them understand what they're doing is that we think they might eventually acknowledge how they've hurt us.  But they literally don't understand most emotional language.  There have in fact been studies and experiments performed on pathological narcissists which revealed that saying to them, "You've hurt me and broken my heart" registers the same as, "Can you pass the salt?"
That's why you can't make them "get it".  They don't have any memory of what it's like to love or care for someone.  They have always only cared about themselves.  They know what things to say and how to act from observation only.  So, when you say anything to them regarding your feelings, they have no clue what you are talking about…and because of this, they have no way to turn the situation around except to blame you for everything.
That's why, while you are attempting to have a sincere conversation with them about your relationship, all they can do is blame, name-call, and act like a complete juvenile.  (Though some juveniles are far more mature).
This is also one of the reasons why they will never change.  If you continue to maintain contact with them, they will continue to manipulate and exploit you because that's what their nature is, in spite of how "wonderful" they were in the beginning.  
Copyright 2017 Let Me Reach and Kim Saeed
Your healed life starts with one step...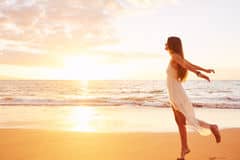 Get immediate access to this FREE recovery series to receive:

My top resources for narcissistic abuse recovery
Tips to detox from painful relationships
Strategies to overpower your addiction to the narcissist
and More!