Got an hour? Try this and you'll wonder why you waited so long
Getting through the pain of No Contact is sometimes brutal. It can seem impossible to take care of ourselves when we must work a job and have kids and pets to take care of. Many people think that self-care is a decadent privilege that's only available to those who are able to stay at home or have a vast support network to help them through the first weeks of No Contact.
Taking care of yourself during NC may be hard to pull off , but it's certainly possible. Not only is it possible, it's essential.
When we make time to take care of ourselves, we are better able to show up for ourselves and also better able to connect with our loved ones.  Making the choice to be present for yourself is something you can do in a short amount of time. I think of it as a shift, helping you feel grounded before you move on to the next item on your agenda.
Here is an easy self-care suggestion you can try this weekend when you have about 45-60 minutes at the end of your day (and it's much better for your peace of mind than scouring the Ex's social media).
The Decadent Home Spa Experience
Draw a warm/hot bath.   If you really want to pamper yourself, you can add bath salts and candles. I use Kuumba Made Bath Salts in Egyptian Musk and various candles that I procur at the local TJ Maxx.  Next, pour yourself a glass of your favorite pleasant beverage. I sometimes enjoy a few glasses of Belcreme de Lys Chardonnay.
If you have a TJ Maxx nearby, you can buy lovely candles very affordably.  I have a penchant for Victorian-themed packaging and candles that are hand-made, 100% all-natural soy wax.  One particular brand I like is made by Michel Design Works and is available on Amazon, if the above retailer isn't located in your area.
To truly make this an experience, I highly recommend queueing your favorite musical maestro and turning off the lights.  One of my favorite jazz artists is Diana Krall, and I often listen to the strains of her 2007 album, The Very Best of Diana Krall.  Relax and let the ambiance gently guide you into a state of forgotten bliss.
As the hour draws to an end, exit the tub and pat your skin dry with your favorite bath towel.  Apply a good moisturizer while your skin is still damp.  I use L'Occitane Shea Butter Body Cream and Amande Hand Cream with Almond Milk.
Being a hippy at heart, I don't buy many clothes, shoes, or purses…but I do like to splurge on nice body care products.  For those times when I need to scale it back, I use Jason Hand & Body Lotion in Cocoa Butter.  It's AMAZING during the dry winter months and also non-toxic.  If you're detoxing from narcissistic abuse, you'll want to make sure that the products you use on your body don't contain toxic chemicals that can further damage your body's delicate systems.
For the record, my kids were at home the whole time I pampered myself with the Decadent Home Spa Experience…
For more ideas on detoxing from narcissistic abuse, check out my articles on Homeopathic Remedies and Healing Recipes.
"It's not selfish to love yourself, take care of yourself, and to make your happiness a priority. It's necessary." – Mandy Hale
Your healed life starts with one step...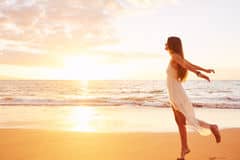 Get immediate access to this FREE recovery series to receive:

My top resources for narcissistic abuse recovery
Tips to detox from painful relationships
Strategies to overpower your addiction to the narcissist
and More!