Email tsunamis…just don't
You sit down at your computer.
You've had something on your mind for a while and you need to share it.
You head over to your email account, hit "compose" and enter the narcissist's email address.
Or, maybe…
You've initiated an attempt at No Contact, but didn't really block your soon-to-be-Ex.  After sending the email and waiting by your phone for ten days straight, you finally get the "I miss you" text, but when you respond back…crickets.
So, instead of pecking around on your iPhone, you sit down to write a come-to-Jesus email to the narcissist in your life.
It doesn't matter which scenario foreshadows the event, what ensues is the email tsunami from hell.
You know what I'm talking about…the frame-by-frame depiction of all the pain and suffering they've put you through. Your rapid succession, chapter-length emails aimed at giving them lessons on being a decent human that always seem to get lost in cyber-space.
Then, after pouring out your heart and soul for hours straight, you finally get their reply:
"You're crazy".
Or
"I think you should see a therapist"
Or
"Oh sorry, just got this", with zero acknowledgment of the messages you sent, much less your emotional state.
Makes you feel kind of high strung, doesn't it?  At least that's how I always felt when I sent email tsunamis to my Narcissistic ex.  I must have sent thousands of them before finally ending the relationship. And with each one, I lost more of my power…until I just didn't have any fight left.
Being a writer, an INFJ, and an Empath, words mean everything to me.  To my Ex, they were either fodder for his entertainment or ammunition to use against me later.
I know you want them to understand.  You want them to "get it", but you're just wasting your precious energy while giving away your power with every email you send to them.
Narcissists absolutely love it when we send email tsunamis.  It means we've been worked into a feverish frenzy over something they said or did.  They don't care about how we feel, but they sure love knowing they have such an enormous effect on us.
In fact, sometimes they enjoy our hateful emails even more than the loving ones.  If they've pushed us far enough to feel that we hate them, it means their mind-games have finally come full circle. And it usually provokes them to treat us worse, because, by the time we start with the email tsunamis, it means we're trauma-bonded and brainwashed.
Plus, it feeds their drama dragon, which makes them happy, especially if we've just had a nuclear meltdown.
To summarize, each time we engage in email tsunamis, we give away pieces of our dignity and self-respect.  Save your emotions for your journal, your therapist, or your cat.  The Narcissist just doesn't care.
Copyright © 2015 Kim Saeed. All Rights Reserved
Your healed life starts with one step...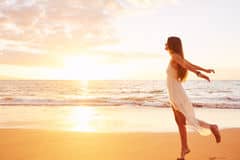 Get immediate access to this FREE recovery series to receive:

My top resources for narcissistic abuse recovery
Tips to detox from painful relationships
Strategies to overpower your addiction to the narcissist
and More!