Til the Bitter End – A Sociopath's 11th Hour Confessions
For those of you who are riding the fence about whether to forgive your partner–yet again–for the lies and deception, please read the following real-life account from a LMR Facebook warrior who couldn't deny her pain any longer…
~Written by The Dancing Gazelle
Today is the anniversary of his death and the anniversary of the second worst year of my life. It took 10 excruciating months for my then beloved husband of 18 years to die from cancer, as I struggled alone to take care of him and work every day.
Six months after the diagnosis, he decided to confess–over a period of two months with daily changing stories–that he had cheated on me for the entire marriage, mostly with men. He had accomplished this on our one opposite day off. He had spent every evening at home with me and showered me every day with verbal "I love yous." He told me often that I was the most wonderful person he'd ever met.
I realized, with horror, that he was "confessing" only out of his terror of possible divine retribution in the afterlife, because he showed no empathy, compassion or guilt for my unbearable emotional anguish. I also realized that I had been living for 18 years with a sociopath.
He was just a wonderful picture that he had painted of himself. He told me that he had realized as a child that other people experienced empathy, something he did not personally understand. He learned to mimic it very well, however. He looked at me, desperately, and said, "I want to be like you." I think he meant that he wanted to be human.
I finally decided I would have to put my feelings aside, care for him until he died, and then put myself back together after he was gone. He died three months later, adored by his friends who had also bought his charming personality and larger than life embellished stories of himself, a number of which were not embellishments at all but outright lies. ("I always had a problem with lying," he said.) I had known all along that he had a propensity for bragging and lying, which he always denied, of course, but I thought he was just a flawed human being, as most of us are. I had blinded myself to the enormity of his dishonesty.
Thirteen years earlier I had gone to a marriage counselor, using words such as gaslighting, dishonesty and covert aggression, and my suspicions of his occasional adultery. The counselor also talked to him alone. The counselor then told me to "take everything at face value," and told me that I could either stay or go, but if I stayed, I would need to accept him as he was.
"What he learned in childhood," the counselor said, "was to never tell the truth." The counselor then suggested that he only counsel me. I believe now that he "made" him as a sociopath, but for whatever reason, decided to keep it to himself. I wish now that the counselor would have screamed that information at me.
Since he and I got along harmoniously as long as I never confronted him with his dishonesty, and because I could not muster the energy and the financial resources to completely disrupt my life by starting completely over, I took the counselor's advice. Once or twice a year, I knocked on the brick wall and fought with him, realized I was wasting my time trying to confront a pathological liar, and settled back into thinking positive thoughts. I learned how to be happy in the Land of Denial.
After he died, I had to confront what he was and also weather my incredible rage at myself for flushing almost 19 years down a toilet. The more reading I did, the more I realized that his behaviors were textbook Cluster B behaviors. If only I'd found that information years ago instead of my "counselor."
I discovered he was still lying when he died, and that he'd been lying to and conning everybody within close proximity most of his life. I couldn't have a memorial service for him because it would have been nothing but mythology.
After some months and much searching for comprehensible help, dear Kim, I found your book and your blog. I took your advice, and applied "No Contact" to all the Kool-Aid drinkers still lionizing him posthumously. That was the beginning of my true recovery, which I struggled with sometimes moment by moment as I rode the waves of self-recrimination, anger at him and myself, and grieving the loss of so many years of my life. "I cannot thank you enough. And I urge others who are involved with this type of person to walk away, no matter what else you might lose, as quickly as possible.
They will not change. They will suck you dry of your very soul. You can get another job, or another house. You can get new friends. Your true friends have probably seen him (or her) all along for what he is. You cannot get your years back. Count your losses and move on with whatever life you have left. Start to believe in yourself and learn the meaning of true freedom.
Grab your 'Beginner's Healing and Empowerment Pack' and get started on hour healing journey!
Your healed life starts with one step...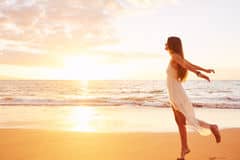 Get immediate access to this FREE recovery series to receive:

My top resources for narcissistic abuse recovery
Tips to detox from painful relationships
Strategies to overpower your addiction to the narcissist
and More!