The Narcissist's Secret Playground – Burning Man
*Warning* – Do not read this article if you are faint of heart regarding topics of a sexual nature
I almost didn't write this article…mainly because I didn't want to give any ideas to the followers I have who are themselves narcissists…who follow my blog because they discovered their partner does, and so they monitor my site in an attempt to stay ahead of the game.
But, I decided I'd be doing more good than harm by informing all of my followers about the latest narcissistic craze.
Burning Man.
Now, I'm not saying that every person who attends this event is a narcissist, because there is a cultural and spiritual element to it…many lives have been changed because of Burning Man.  I've communicated with people directly who told me how Burning Man was a turning point for them.  Indeed, for the truly spiritual person, Burning Man is probably a once-in-a-lifetime experience.  People even take their children there.
But, culture and spirituality are not what the narcissist is seeking when he or she buys their ticket. This may be difficult to discern, especially if you're involved with a pseudo-spiritual narcissist.  (Yes, they have infiltrated affinity groups quite intricately).
Unless you are into open relationships and the likelihood of your narcissistic partner having sex with multiple people while attending this event, you may be scarred for life.  It's definitely not something Empathic, Introverted HSPs can take lightly.
Seriously, if you're at all sensitive or have high standards around monogamy and the narcissist in your life has mentioned this event to you – even casually – you should seriously consider that there may be a critical compatibility issue in the relationship which will result in your being traumatized for months.
The Good
Burning Man promotes academics and being green.  Their mission statement is:
A temporary metropolis dedicated to community, art, self-expression, and self-reliance. In this crucible of creativity, all are welcome.
And that's precisely what the festival represents for most people who attend.  Indeed, it's a beautiful platform for self-connectedness – for the right people.
But, there's a different element to the event that's not fully described on the site.  While there is mention of sexual "adventure", what they don't really reveal is just how shocking the sexual aspect of the event can be.  
Burning Man doesn't coordinate the sexual activities available there, but allows shop owners to establish various "sex tents" on-site.
So, what 's the great attraction to Burning Man as it pertains to the narcissist?  I did some research on the subject since it's become a recurring struggle among many of my coaching clients whose partners have been there or are making plans to attend.
I'll give it to you straight–so you can compare notes in the event your partner may be planning to reserve their spot (or you discover their intentions without their telling you) – and it's not because they want to check out the creative art.
The Low-Down
The media images available on the internet make Burning Man appear as a modern-day Woodstock.  Many describe it as the ultimate self-image healing experience–which makes it unfortunate that so many of my clients have been traumatized by the event based on the reasons their toxic partners have gone there.
Following is a sampling of why the narcissist wants to go to Burning Man, which is held in the Black Rock Desert in Nevada:
Threesomes
Partner Swapping
Prostitutes (who are willing to do ANYTHING)
Orgies of all flavors (such as this one here)
Classes on sadomasochism
Tantric sex workshops
Oral sex contests
Women and men walking around naked or in lingerie
…and these activities are vanilla in nature compared to other things I discovered that I can't write about here.
This year's festival will be held Aug 26, 2018 – Sep 3, 2018, you know…in case your partner suddenly wants to go on a trip and "bond with the guys" or go "camping" with her girlfriends.  Keep in mind that this aspect of the festival is not openly promoted.  In fact, from what I've been told, you have to actively look for it.  
This particular element of the event might be kosher for individuals of an adventurous spirit, but it's definitely not for the faint of heart. Many eager folks who considered themselves as being in open relationships – believing they'd be accepting of the whole Burning Man experience – ended up parting ways after attending.
I can definitely say after having worked with clients whose partners attended the festival, it was one of the most traumatic experiences for them in regards to the betrayal they endured in their relationships.
For those of you who are in this predicament and are afraid that disagreeing with your partner's going to Burning Man makes you an old-fashioned, close-minded prude, that's simply not the case.  All parties in relationships are entitled to deal-breakers.
It's one thing to agree with your partner going on a week-long fishing trip with the bros, but another entirely to give them the green-light to attend Burning Man.
As for the school of thought that states, "we're two separate entities that love and respect each other. All healthy relationships should be based on being two independent people choosing to come together and stay together out of friendship and love, not obligation."—well, if you're in a relationship with a narcissist, this mindset doesn't apply given the nature of lies and concealment that narcissists engage in.  Even polyamorous people have guidelines in their relationships.  The true polyamorist makes their partners feel emotionally safe.  Therefore, if your partner claims to be polyamorous and makes you feel bad about it, they're just a garden-variety, narcissistic cheater.
Narcissism aside, healthy relationship guidelines don't include feeling obligated to allow your significant other to go into the middle of the desert with naked people.  Where drugs, an all-inclusive menu of sexual choices, and willing playmates are available around every corner.
If you're not okay with it, you have the right to say so.  Allow the other person to make their decision, and if they choose to go after knowing how upsetting it would be to you, then you have the right to end the relationship. 
You wouldn't need to present this as an ultimatum.  Simply pack your things while they're gone and hit the road…
Copyright © 2018 Kim Saeed and Let Me Reach. All Rights Reserved
Your healed life starts with one step...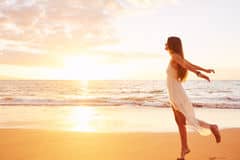 Get immediate access to this FREE recovery series to receive:

My top resources for narcissistic abuse recovery
Tips to detox from painful relationships
Strategies to overpower your addiction to the narcissist
and More!