The Garden
Life is like a garden. There are no gardens that appear manicured without cultivation, maintenance and the removal of weeds.  When you do see a beautiful garden, you see the work that was put into it's becoming. The same is true with us.  When you see peace, love and joy in a person, you see their work to attain it. You see the result of foregoing resentment and choosing to forgive.  You see their choice to remove things that cause despair and adopt practices and choices that increase emotional well-being and enjoyment. Quality of life is ever-present in their stride, just as the master gardener strolls through the garden to ensure nothing is amiss. As the attentive parent checks in with the child to make sure they're okay, and the invested spouse evaluates the state of their union.  
Years ago, I began a journey of beautifying my own garden by removing negative beliefs about life, myself and even others. I began digging up rocks of unresolved pain from my past so that I'm allowed to blossom into my fullest self-expression. I take time to survey my relationships and endeavors to determine whether they are weeds or fertilizer. Destructive or nurturing. Do they overcrowd my life and steal time from that which actually adds value? Do they choke the life out of my dreams and burden me with seeds of discouragement? Do they have a negative influence that stunts me from my full potential? Or are they rays of sunshine after an April shower, beaming positive energy from one enlightened soul to another? Do they bring out more of my true brilliance, and am I better because of their deposits? As I answer these questions I learn to remove more of what harms and add more of what helps.
 There is no beauty of order without attention, nurturing and cleansing. I have learned that an unintentional life cannot be its most beautiful. Just as a garden full of beautiful flowers and plants will not be seen as such in its wild state. The eye that can see its beauty, however, is the eye of vision that imagines what it could be with a little cultivation. As I've evaluated different areas of my life, I have envisioned them beautified. This mental picture has guided my efforts and decisions to polish what is dull and harmonize what is disarrayed. Though my journey be new, my intentions are true.  As that master gardener, I will, one day, stroll through my life with satisfaction of a life well lived, a landscape well designed.
Start your garden with The Beginner's Healing Toolkit.  Grab your free copy below!
About the Author
Lolisha Chaney is a freelance writer and inspirational speaker from the San Francisco Bay Area, CA.  As a depression survivor, she draws upon the wealth of knowledge gained from her journey to emotional wholeness.  Lolisha has accepted the call to a higher lifestyle with a focus on helping others by telling her story with refreshing candor that resonates with the human experience.  This work is used to inspire others to remodel their lives from the inside-out; getting life together, one thought at a time.
Your healed life starts with one step...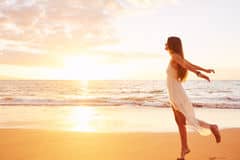 Get immediate access to this FREE recovery series to receive:

My top resources for narcissistic abuse recovery
Tips to detox from painful relationships
Strategies to overpower your addiction to the narcissist
and More!