The Brutal Reason WHY the Narcissist Wants to Take a Break
If you're involved with someone whom you suspect is a narcissist, you've probably heard the "I think we need to take a break" spiel.  
It's supposed to be just "temporary" … to sort their thoughts and get some breathing room.
BUT …
Behind the half-truths you're hearing from the narcissist lies a treasonous reason for WHY.
What does it mean when the narcissist wants to take a break?
This means two very different things between narcissistic people and their partners.
No matter how innocent and genuine it seems in the moment, the narcissist has very different motives when they suggest taking a break.
In your mind, you might believe things have been a little chaotic, so taking a break could give you both time to breathe and reflect on ways to improve the relationship… maybe even time to miss each other.
But in the narcissist's mind, it's not like that at all.
Generally, when the narcissist wants to take a break, it means they have new supply to groom and they don't want to be bothered with your phone calls, texts, or the possibility that you might ask to see them.
Or, if they don't yet have another person to groom behind your back, it's another way of saying, "I want to go out and have a look around, but, I'll come back and resume where we left off if I don't find someone better."
And during this self-created perk to live like a single person, they don't want to deal with damage control.
If they are grooming new supply, they'll use the "break" to ponder ways they can begin triangulating between you and the new person…and they don't want to deal with your "I miss you" texts in-between because that means you'd expect them to respond.
They'd probably ignore you, anyway, just to make sure your abandonment triggers stay nice and fresh to pave the way for their return.
Or, they'll throw you the proverbial bone, "I miss you, too", and then go dark for three days straight.
So how should you respond when the person you think is a narcissist asks for a break?
It's important to understand that this generally means they want to actively groom someone behind your back.
Please note that I'm generalizing. Not every situation, not every breakup is the same, but if your partner meets the criteria of being a narcissist, then this is the most likely scenario.
So, what should you do when the narcissist asks for a "break"?
The best thing you can do is agree to everything and enforce strict No Contact immediately…but, don't tell them you plan to do it. Just do it once the narcissist wants to take a break.
You see, because of their past silent treatments and the fact that you've always taken them back, they believe you'll be waiting patiently for them to return like they always do.
But, unlike their typical performance of withdrawing from your life only to return later, they don't want to take the risk of your calling or texting them while they're out with potential new supply.
They want to groom freely, without any interruptions.
So, you agree to take a break and then go into stealth-mode No Contact.  This will serve in the following ways:
It will save you from the constant obsession about whether you are together or broken up. Plus, you will come out the victor when they later return to the sound of crickets.
It prepares you for the work of starting your healing journey.  This is the perfect chance to start detaching emotionally and begin withdrawing from your biochemical addiction.
If your partner is a malicious narcissist, they will reveal their true colors and you will know what extra measures you might need to enforce to preserve your future and sanity.
Stealth No Contact protects you and acts as a catalyst to begin the grieving and withdrawal cycles that are a necessary part of detaching from emotionally destructive relationships.
The physical withdrawal itself typically lasts between 30-90 days.
In any way, if you persevere through the first 60 days, you will know more about why you've felt helpless to leave the relationship and have the opportunity to work on the inner wounding and addiction that's kept you stuck up to this point.
No matter if your breakup happened today or months ago.
Following No Contact is NOT simply keeping your Ex away from you, it's also a personal commitment to self-discovery and healing from emotional trauma.
Because no matter how determined you may feel in forging ahead with your life, it's extremely difficult, if not impossible, to move forward while keeping a window open for the narcissist's return.
There's no closure, no sense of finality.  You'll be left in a state of limbo, and may even begin to experience triggers when they don't reach out to you…which is the whole point of going No Contact in the first place!
If you agree to "take a break" with the narcissist, it will be a break with no deadline.  Narcissists use "breaks" as openings and opportunities to look around and see if they can do better. Or, they use it to groom new supply.
With no designated time, it's simply code for "I'll come back around for ego snacks and booty calls".  Why would you agree to let the narcissist take a break when they clearly aren't committed?
It's likely you care about them deeply, but it is more likely that you believe their coming back would validate you. You don't need their validation, you need it from yourself.  
Narcissist wants to take a break?  The best thing you can do is say, "Sayonara"!  Get started with your free 'Beginner's Healing Toolkit' below!
Copyright 2018 – Kim Saeed
Your healed life starts with one step...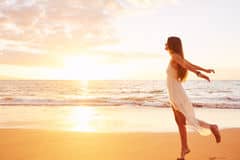 Get immediate access to this FREE recovery series to receive:

My top resources for narcissistic abuse recovery
Tips to detox from painful relationships
Strategies to overpower your addiction to the narcissist
and More!