5 Things to Never Do After Breaking Up with a Narcissist
Breaking up with someone you've spent part of your life with is never easy, whether you agreed to the breakup or were heartlessly discarded out of the blue.  
However, it's what you do after the breakup which determines whether you will recover and move forward or stay hopelessly obsessed with your former partner. 
There are healthy ways to deal with your grief, which are common and reasonable, and there are unhealthy ways.  If you truly want to move forward after your breakup with a narcissist, make sure you avoid the following bloopers of breakup "etiquette", which can ultimately spell disaster for you.
1 – Try to remain "friends"
Most people who breakup in healthy relationships typically don't remain friends.  Sure, they may treat one another cordially, but the whole point of a breakup is to create distance so both parties can heal and move on. 
Narcissists, on the other hand, often make the seemingly heartfelt request that, although the two of you aren't compatible, they care about you very much and hope you'll agree to remain friends. 
Narcissists make this suggestion for one reason only.  They don't want to commit, yet they want to keep you around as an option while they maintain their influence and control over your life.  They know full well that it would be impossible for you to move on, much less heal from their abuse, while they are still around. 
Until you're okay with the narcissist seeing other people and telling you about their dating escapades, you're not ready to be friends.
2 – Continue communicating on the regular
We all reflect on things we wish we'd said and lament over what we could have done differently while in the relationship.  This is especially true after a breakup with a narcissist due to their inherent need to blame you and everyone in your inner circle (including your aunt's chihuahua) for the downfall of your relationship.
So perhaps you're driving home from work and you see that quaint little Mexican restaurant the two of you used to frequent for their tasty margaritas.  You see a couple sitting in "your spot" and you feel nostalgic.  Suddenly, you want to pick up your phone and dial the ex's number. 
Don't do it.
Part of the reason you feel lost after the relationship is because you're also having to deal with a serious upheaval in your routines and daily living habits.  But, another reason we feel so desperate after breaking up with a narcissist is that there is a deep void of unworthiness we want to fill. 
The void that was created and nurtured by the narcissist themselves. 
Don't forget the narcissist's true nature during moments of nostalgia.  You'll never adapt to the single life or be able to move forward into healing if you remain under the narcissist's pathological charm.
3 – Beg for another chance
I get it.  You've been ruminating over the narcissist's cold voice, their disinterest, the continual parade that things are over for good, the shocking facts about their new life …
And worst of all, the neurotic pondering over insignificant details triggered by seeing them out with someone else.
You know you could make them happy if they'd just give the relationship another whirl.
Pets may look cute begging for a morsel of your tasty snack, but you won't feel as cute as you beg for another chance in a relationship gone bad, especially after a breakup with a self-imputed love god.  Maybe you don't understand what went wrong in the first place – and this is wonderful news for the self-righteous narcissist, who will use the opportunity to further condemn you…thereby ensuring you will keep precious space open for them while they're off galivanting with new supply. 
It won't turn out good for you if you beg for another go.  Plus, you'll hate yourself for it later after the sting of humiliation and regret sets in.
4 – Have a sleepover
The narcissist calls out of the blue, you cave to the hoovering.  You go out for dinner or maybe you invite them over to Netflix and chill.  Before you know it, things get steamy and you end up sleeping with the narcissist because it feels like they truly care for you in the moment.
Then, you catch them checking out a dating app on their phone or hiding a text that came through from their new dating partner.
This is why the regrets of the dying don't include sleeping with their narcissistic ex one last time.
5 – Cyberstalk the ex
Can't resist the urge to look at the ex's Facebook page after your breakup? It calls your name and whispers, "Guess what's going on over here!" A little peek won't hurt, right?
Stalking your Ex and their new partner on Facebook (or any social media platform) is directly correlated with a huge delay in your healing process (I'm talking possibly years) and worse, may incite your plummeting into a swirling eddy of despair, leading to depression and the need for serious pharmaceutical meds.
Resist the urge to stalk your ex online. "Defriending" and blocking can help you avoid the constant temptation to check in and see if your ex is living a life more awesome than yours (which is all smoke and mirrors, anyway).
Conclusion
If you've been devalued and discarded by the narcissist in your life, then neurologically, keeping them around will only strengthen your biochemical addiction that formed inside the relationship.  Plus, the continued rejection by the narcissist activates the same centers in your brains physical pain.  In many cases, people describe emotional pain to be much worse.
Letting go isn't a one-time thing, it's something you have to do every day, over and over again.
When you let go of someone who was bad for you, you make room in your life for healing and new possibilities.  It's important that you stop leaning on the narcissist for comfort because that keeps you tied to them.  You delay your healing process and avoid learning the lessons you need to learn by continuing to have contact.
It will feel like the hardest thing you've ever done, BUT, it will also be the most liberating thing you've ever done.
Copyright Kim Seed and Let Me Reach 2017
Need help getting over a breakup with a narcissist? Kickstart your healing with your complimentary copy of the 'Beginner's Healing Toolkit' below!
Your healed life starts with one step...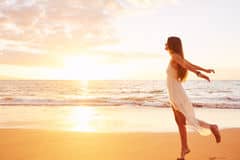 Get immediate access to this FREE recovery series to receive:

My top resources for narcissistic abuse recovery
Tips to detox from painful relationships
Strategies to overpower your addiction to the narcissist
and More!