The Wounded Child: 7 Needs Narcissistic Parents Cannot Provide
Living with a narcissistic parent can be devastating, complicated, and downright toxic for children. The home, which should embody a comforting place of safety and love, resembles a quasi-battleground where there is only one clear winner.
Furthermore, many of these wounded children grow up falsely believing that their home lives were normal and acceptable. With that said, they experience aching and painful needs that may feel bottomless in their adult lives.  Following are seven things narcissistic parents can never provide to their children.
1 – Attunement To Feelings
Children learn how the world works through the almighty lenses of their caretakers, and research rooted in attachment theories show that. When a caretaker attunes appropriately to the child's feelings and needs, the child subsequently experiences safety and security.
However, in narcissistic families, children experience repeated incidents of their parent misattuning, misaligning, or downright ignoring their feelings. The parent does not validate the child's emotions; the parent validates whatever is in the parent's best interest.
The narcissistic parent may punish children for crying, shame them for experiencing fear, and even quell them when expressing 'too much' happiness. In other words? Children learn that their feelings are erratic and unsafe. They learn that they are a source of problems.
For this reason, many children grow up believing that feelings must be suppressed. To achieve this suppression, we see many children of narcissists struggle with substance use, eating disorders, self-harm, and other impulsive or compulsive lifestyles.
After all, if they've experienced compounded years of condemnation for having feelings, why should they feel safe within their own emotional selves?
2 – Room For Flexibility
Children have fickle and temperamental personalities. One moment, they love ketchup; the next moment, they detest it. One day, they want to become an artist, and the next, they're telling you they intend to sign up for the military.
According to childhood development research, these identity shifts are both normal and healthy. As children grow, they seek to establish their own identities and understand their proverbial place in this world. Subsequently, they need support and reassurance from their caretakers that they are allowed to engage in this process.
However, in narcissistic homes, this freedom for flexibility doesn't exist. The child must conform to the parent's wrath- or face serious consequences. The narcissistic parent holds a rigid view of how their children must act and behave (and it's typically a mirrored version of the narcissist).
This parent cannot tolerate outside peer or societal influence. Furthermore, this person cannot understand why a child would be "susceptible" to these influences, either. Children, therefore, grow up without ever being certain who to trust or what to believe.
3 – Healthy Communication
Simply put, narcissistic parents do not practice assertive or sensitive communication. They do not consider how the recipient will receive or understand the information. Instead, they use dialogue as a manipulative tool- as a means of furthering their own agendas.
This rupture affects children in profound ways. For one, they rarely feel safe expressing their own feelings. For two, they struggle to understand the nuanced differences between aggression and assertiveness.
That's because narcissistic parents use a blend of cognitive empathy with aggression to communicate with their children. Regardless, children tend to experience this dreaded sense that it's always their fault, as this is the mantra reinforced time and time again.
Thus, children will grow up dancing the tango of continuously walking on broken eggshells. In their adult lives, they may struggle with healthy communication patterns in their own relationships.
They may become passive people-pleasers, cowering in the face of authority, always worried about offending or angering other people. Or, they may take on the same, familiar communication habits as their parent, shifting into a narcissist themselves.
4 – Acceptance of Mistakes
In a healthy family system, parents understand (and embrace) the inevitable fallacies of their children. They know that children make mistakes, and they can reasonably accommodate for these inconveniences.
In households driven by narcissism, these mistakes aren't embraced or accepted. The opposite occurs. The parent perceives mistakes as catastrophes.
That's because anything beyond the realm of the parent's rigid image reflects poorly on him or her. That is a hollow feeling the narcissist cannot tolerate.
In these types of households, parents often use physical or emotional abuse as a form of punishment. However, the emotional damage isn't just in the bounds of criticizing or insulting the child. It's taken a step further.
The parent continuously abuses the child by making it about the parent. As in, how could you do this to ME? Can't you see how this affects ME? It's no longer about the child's "mistake." It's about the parent's belief that the child has intentionally "harmed" the narcissistic parent.
5 – Conflict Resolution Skills
We know that narcissists do not engage in conflict on an even playing field. In fact, they play on their own field, and they make up their rules and parameters along the way.
The narcissistic parent cannot convey appropriate conflict management. That's because the narcissist always wins, no matter the context. It's not an issue of disagreeing or experiencing healthy tension. It's a matter of, I'm right, you're wrong, and anyone who thinks otherwise is insane.
When the narcissistic parent becomes angry, there is no compromise or healthy processing of emotions. The entire house shifts to what the narcissist needs at that moment. Many children continuously witness the useless power struggle between their narcissistic parent and their enabling parent. They quickly learn that the narcissistic parent always wins- even if someone else tries to put up a fight.
Again, children in these households will typically struggle with conflict management in their adult lives. Many will attempt to avoid conflict altogether, often emulating placating people-pleasers. These individuals risk repeating childhood patterns and becoming attracted to narcissistic partners.
Other children attempt to restore the power they never had by essentially mimicking the same narcissistic conflict resolution skills as their parent.
6 – Unconditional Love
All children need to experience the inherent sense of universal security and love. They must know and feel that they are worthy and loved- no matter what they do. Unconditional love provides children with a healthy form of attachment to their caregivers, and it also provides them with the self-esteem needed to succeed in the world.
The narcissistic parent does not provide that love.
Instead, they often oscillate between love bombing (when the child is behaving according to the narcissist's standards) and complete discarding (when the child is acting otherwise).
In other words, love is conditional. It's based on how the child can fit the needs of the narcissistic parent. It's based on what the child does and gives- rather than who the child is. And it can change instantaneously.
You can see how this creates a conflicting paradigm throughout childhood. Children cannot anticipate the emotional reactions of their parent. They never know if it's going to be a good or bad day. And, furthermore, they never know what kind of love (if any) they will receive.
7 – Age-Appropriate Responses
In healthy parent-child relationships, the parent provides age-appropriate responses based on the child's needs and development. When narcissistic parents interact with their children, they do not accurately attune to the emotional needs of that child. They attune to what they need from the child, and not the other way around.
On the one hand, many narcissistic parents parentify their children. This means they treat the child as if the child is older than her actual age. Likely, they cannot comprehend that children do not operate on the same emotional levels as adults.  
Some parents will use the child for 'peer support' by dumping their own adult issues onto the child and expecting legitimate advice and solutions. Other parents may place unrealistic expectations of their children, such as assuming a child will take care of her younger sibling (and then get upset if and when the child asks clarifying questions).
When these children grow up, we see these narcissistic parents engage in infantilizing. In other words, this parent cannot accept that the child grows up into his or her own unique identity and adult self. The parent cannot tolerate the idea of not being needed, desired, or appreciated.
Thus, these parents will attempt to sabotage the natural, developmental process of adulthood. Some try to do this in subtle ways (such as making minor decisions for the child). Others will do it in far more destructive forms (disregarding boundaries, assuming complete responsibility for the child's well-being).
The Future for Children
Growing up in a narcissistic family can be traumatic for all children. Though the narcissist's child requires love, affection, flexibility, and encouragement, he or she receives the continuous message that their needs are unreasonable and insulting. It's a troubling dynamic, and it's one that can impact a child for the rest of their life.
Healing from the childhood wounding inflicted by the narcissistic parent takes time, but recovery and redefinition of love and acceptance are possible if actions are taken to remove children from toxic environments.  
If you have a child with a narcissistic partner, there is still hope!  Grab your free Beginner's Healing Toolkit and begin paving a better future for you and your child!
Your healed life starts with one step...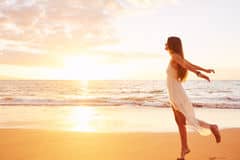 Get immediate access to this FREE recovery series to receive:

My top resources for narcissistic abuse recovery
Tips to detox from painful relationships
Strategies to overpower your addiction to the narcissist
and More!